Volunteer with us
By volunteering with Intact you have ample opportunities to visit India as a local which will give your journey a purpose. You can spend your time with special children or tribal children and help them by:
Teach English, computer, music or games/physical education
Work with children with intellectual disabilities at Intact Special School
Spend a morning with therapy horses and experience the joy of children riding.
You can also benefit from special activities:
Learn to cook traditional Indian cuisine
Enjoy hiking in the striking mountain region
Visit families in the tribal villages
Get an introduction to classical Indian dance
See our various projects around Tamilnadu
Stay in our guestrooms with stunning views of Kalrayan Hills
Take weekend breaks to visit temples and other places of interest.
You will experience the 'real India' while contributing to the lives of others. Read our volunteer blog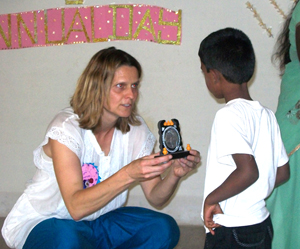 "I have had an amazing 3 months up in Kalrayan Hills. The children are absolutely wonderful and I go home with fond memories, more knowledge about myself and India, and with a promise to myself to come back soon."

Disa Jernudd, Stockholm, Sweden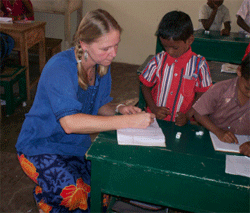 "I am grateful that I was given the opportunity to make this amazing trip and take on the challenge of experiencing a foreign culture and discover that children and adults are the same across the world. Not speaking the same language can be overcome with games and joy. That is what I encountered when meeting the wonderful children and teenagers at Intact. Life is not the same after my trip to India."

-Anita Lindqvist, Tyresö, Sweden