Meet us we help!
These are some stories of some of the children Intact has touched during the years
My name is Hari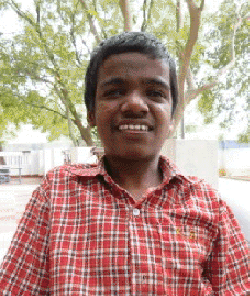 In 1997 September, a 7 year old boy with multiple disabilities (Cerebral palsy, mental retardation and vision problems) was left outside the Samayapuram Mariyamman temple near Tiruchirappalli. The boy had burn wounds when he was found. A temple devotee took pity on the boy and brought him to Intact Special School. The school headmaster named the as boy Hari Samuel and had him admitted to hospital for a few days until he was fully recovered from the injuries that could be healed. Hari had severe problems with paralysis and was not able to move by himself, but with physiotherapy there was great improvement and Hari now stays in the hostel at Intact Special School. His parents have never been identified.
My name is Saranya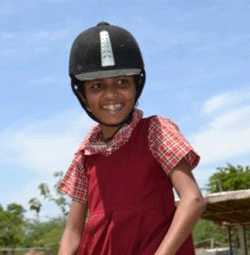 In August 2008, a girl was wandering back and forth on the Tiruchirappalli – Salem main road near Vathalai village. A passer-by took pity on the girl and brought the girl to a local police station where the station police inspector admitted the girl to a school for child labor eradication. The girl was given the name Saranya. After a few days the school realized that Saranya required special education to handle even the smallest of daily tasks, due to intellectual disability. The district differently abled welfare officer recommended Intact Special School to which Saranya was moved. With special training and necessary therapy, Saranya has greatly improved and today lives in the Intact Adult Girl's Home and all her basic living requirements are met by Intact.
My name is Giri Buvaneshwar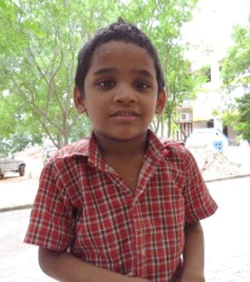 Giri Buwaneshwar is a young boy from a poor family wind a father who is addicted to alcohol. Giri's mother died when he was 4 years old and his father left him and the home at the same time. Giri was taken in by his grandmother who made a living begging in front of a temple. Giri suffers from autism and it was difficult for his grandmother to care for him, so she tried to hand him to an orphanage, but they instead recommended that he'd be admitted to Intact Special School. Giri came to ISS in 2013 when he was 6 years old.